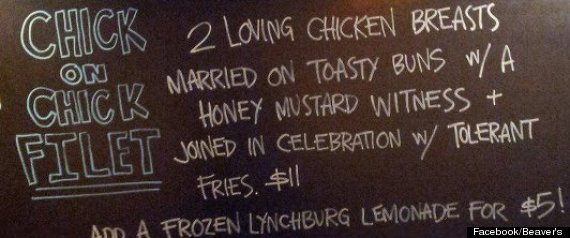 A popular Houston restaurant, Beaver's, has decided to make it's own stance against Chick-Fil-A's anti-gay position.
Beaver's announced a new addition to its menu, the "Chick-On-Chick" Filet, which is described as "two loving chicken breasts married on toasty buns with a honey mustard witness and joined in celebration with tolerant fries." A photo of the menu special has since been circulating on Facebook.
According to the Huffington Post, he Texas restaurant is pro-marriage equality, according to Gawker. Not only is owner and celebrity chef Monica Pope a lesbian, but her Houston restaurant is also known for attracting a diverse clientele.