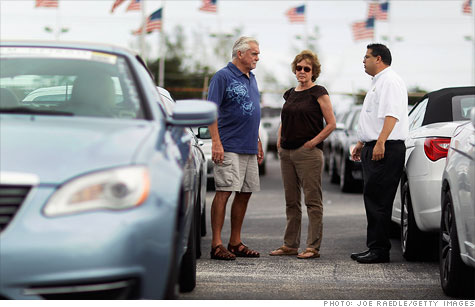 Chrysler sales jumped 34%
So – remember those American car companies that Mitt Romney says should have gone into bankruptcy? Those American car companies and all those American jobs? How about this:
The Big Three U.S. automakers all reported strong March sales, as buyers flocked to dealerships in numbers not seen in years to buy everything from fuel-efficient small cars to large pickups.

Chrysler reported its best month in four years, selling 163,381 cars and trucks in the month, up 34% from a year earlier, and its best results since March 2008. Sales were roughly in line with analyst forecasts for the company.

Chrysler, which four years ago had no models that got 30 miles per gallon or more on the highway, now has six models that top that fuel-efficiency benchmark. Those six models accounted for 29% of its March sales. And that's before what is expected to be its hottest-selling fuel-efficient model, the Dodge Dart, reaches dealers in June.
President Obama backed the American worker. And he was right. We kept good jobs in the US and it's helping the economy. Plus a lot of the cars purchased were more fuel-efficient models. Better for the environment.
See how this is all starting to add up as a good thing?
BUT – Mitt Romney says we are headed in the wrong direction. Remember that Detroit.
(source)