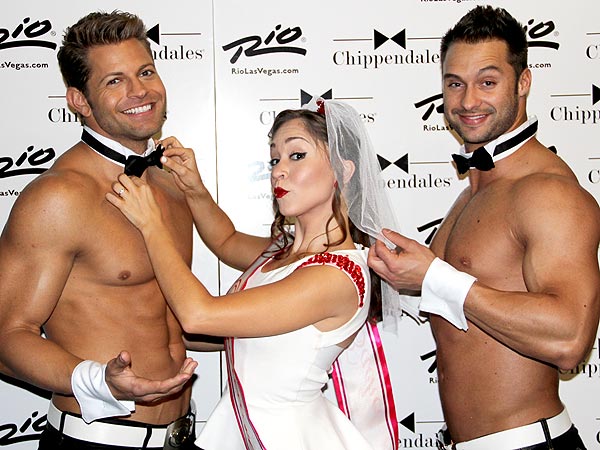 Jaymes Vaughan, Diana DeGarmo and James Davis at Chippendales in Las Vegas
You never know who or what will happen in Las Vegas.
Ace Young, singer and Idol alum – who surprised fellow alum and girlfriend Diana DeGarmo with a proposal on the American Idol finale last year – shocked her again in Las Vegas on Friday.
DeGarmo, 25, was celebrating her bachelorette party with the Chippendales at the Rio All-Suite Hotel and Casino, when Young, 32, made a guest appearance on stage.
"I can't believe Ace surprised me again," DeGarmo tells PEOPLE. "I am so beyond lucky to have my best friend always keeping me on my toes no matter where we are."
Ace treated Miss Diana with a song (and a lap dance!) while she was blindfolded on stage. One thing that didn't surprised her? How her man nailed his performance.
"Ace is the sexiest man alive so he fit in perfectly with the
Chippendales," says DeGarmo. "He also rocked that bowtie and cuffs like
nobody's business. He might have another calling in Vegas one day!"
Click here to see video of Ace "serenading" Diana on People.com