Let's see: Three Republicans – Presidents Ronald Reagan, George H.W. Bush and George W. Bush. One Democrat – President Obama.
Is Sarah Palin, the former half-term governor of Alaska, as upset that the Republican presidents had someone hold an umbrella for them as she is about President Obama…?
Oh, and speaking of Americans who've had someone hold their umbrella for them: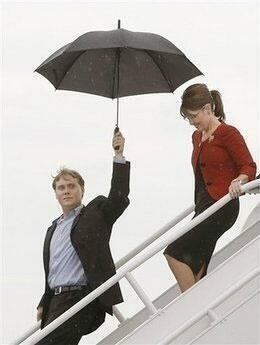 Gee, Sarah – those were the days. Weren't they?